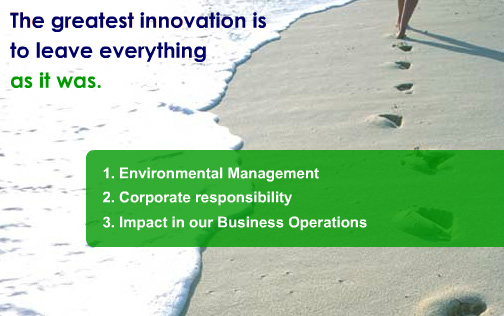 Sustainability for Tecniplast means meeting today's needs without jeopardizing the ability to meet the needs of future generations. Then our objective is
to minimize our environmental impact by optimizing energy consumption, not only in our own production and transports, minimizing the environmental impact of our waste handling and our emissions but also by developing energy-efficient solutions for our customers. We have, for example, adopted the principles of EcoDesign in our new product and process development.
In Tecniplast, sustainable development combines social and environmental sustainability.
Download Tecniplast Environmental Report Assurance Statement
Ask your Tecniplast local representative for further information on the Environmental Report

1 - Environmental Management
Our Approach
We approach environmental management as a natural part of our business operations and aim to leverage these activities to return great benefit to TP, society and the global environment.
TP has developed a Company Wide Environmental Action Plan which chart the route for our company several years into the future. The Plan has 3 themes: Management, Green Product Strategies and Business Operations.
2 - Corporate responsibility
Eco Designed buildings
Tecniplast offices and industrial buildings are designed and built in such a way as to cut energy consumption to a minimum both in the construction phase and during use.
Safety & Prevention
Sophisticated safety systems are in place throughout the Tecniplast Group, designed to reduce risk and to protect personnel and the environment in the unlikely event of an accident.
2 new buildings has been completed in 2009, following the unmet needs of expansions. A new R&D Bulding for our R&D team (more than 30 designers) and a new Cafetteria for our workforce (more than 500 employees only in Italy) has been built. Both buildings (800 m2) are:
Green building class
Certified by Casa Clima
Integrated with:

Passive Solary energy
Reclaimed Water
Local Natural Material
A separated Facility has been built in 2010 in USA, with the objective to be more environmentally sustainable and more effective in answering to the growing customer needs. The facility in Philadelphia area has a production site (welding, glassblasting, peening, assemblying and warehouse) and office site with Training center and Show Room.
A Fully automated Centralized Warehouse with more than 12,000 europallets was built in 2011. It brings consistent advantages to customers in terms of service level and in terms of reduction of CO2 footprint, reducing dramatically transportation.
A second new building for production and offices, built bearing in mind sustainability concepts, opened in 2016.
3 - Impact in our Business Operations
Prevention of global warming: reduction of energy used
Logistics:
Company car fleet of low emissions vehicles
Reduce packaging used per unit
Promote reuse of packaging materials
Reduce packaging waste
Environmental Risk Management:
Build a TP risk management system and implement through risk management to ensure compliance with relevant laws in terms of the environment and safety.
Waste reduction
Reduction of waste at manufacturing facility
Promotion of waste reduction and recycling
Management of chemical substances
Review production processes and reduce usage of alternative substances in order to control environmental risks from chemical substances.
Recycling of the product at the end of the life proposing a second life for the plastics