News
Validation process of a Prototype Plenum Attachment to be used in conjunction with the Interceptor filter for EAD-PCR testing in an IVC System with Centralized Ventilation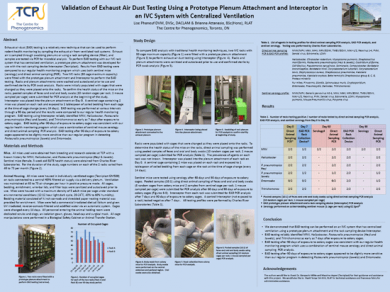 June, 2017

An interesting poster has been presented at the recent CALAS Conference in CANADA.
The poster, authored by Lise Phaneuf* & Brianna Attanasio*, describes the validation process of a Prototype Plenum Attachment to be used in conjunction with the Interceptor filter** for EAD-PCR testing in an IVC System with Centralized Ventilation.
The authors were able to:
- demonstrate that EAD testing can be performed on an IVC system that has centralized ventilation using a prototype plenum attachment and the rack sampling device Interceptor.
- show that EAD testing reliably identified MNV, Helicobacter, Pasteurella pneumotropica (Heyl and Jawetz), and Tritrichomonas as early as 7 days after exposure to colony cages.
- prove that EAD testing:
after 90 days of exposure to colony cages was consistent with their regular health monitoring program which uses a combination of sentinel mouse serology and direct animal sampling PCR analysis.
after 90 days of exposure to colony cages appeared to be slightly more sensitive than our regular program in detecting Pasteurella pneumotropica (Jawetz) and Entamoeba.
*RLAT, The Centre for Phenogenomics, Toronto, ON, Canada
**Tecniplasy, S.p.a, Buguggiate, Italy