News
TECNIPLAST Workshop at the recent Felasa 2013 conference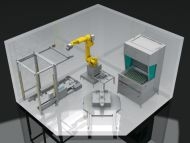 Tecniplast presented and sponsored a workshop at the recent 2013 Felasa conference which spotlighted the importance of evaluating the added value of automation in a lab animal facility since the beginning.
The workshop underlined how Automation is increasingly used in animal facilities for cage processing, bedding dispensing and waste handling not only to reduce operating costs but also to reduce occupational exposure to animal allergens and repetitive manual tasks, both of which are associated with unsatisfactory working conditions and potential occupational health risks (such as Laboratory Animal Allergy and Musculoskeletal conditions).

The workshop accessed expert medical and scientific input from the USA and Europe to provide an understanding of the causes, risk factors and potential consequences of LAA and MSD and, secondly, to evaluate the risk reduction by introducing automation.

Real cases has been used as case studies to demonstrate the role of institutional occupational/medical management in identifying both at risk groups and individuals, monitor and prevent allergies, and MSD disease.

Different presenters exposed different views on the topic, from providing an overview of the epidemiology treatment and risk factors, and discussing primary and secondary prevention measures that can be taken, to assisting participants to assess benefits of animal facility automation projects.

The following areas has been covered: the impact of automation on building design and operations; developing consultation processes and ROI metrics to support stakeholders engagement and decision making; the decision process and cost/benefit analysis of integrating automation. During the presentation participants have had the possibility to share experiences and expectations from automation in animal facilities.

The seminar closed with a real interesting presentation on how automation can solve the work load in the washing area due to the integral cage change procedure. Integral cage change procedures are increasing the labor needed in the washing areas due to the disassembling/reassembling operations required, operations at high ergonomic risk and hazardous under an allergen exposure point of view. In the last years solutions to handle the integral cage setups and to perform all the required tasks from cage disassembling to cage reassembling, going through waste dumping, washing and fresh bedding/diet refilling have been developed. The presentation introduced this innovative concept in term of process and features.