News
TECNIPLAST WORKSHOP AT THE 2013 TURNKEY CONFERENCE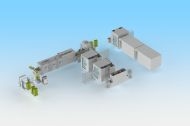 Tecniplast presented and sponsored a Pre Conference Workshop at the recent 2013 TurnKey conference which spotlighted the importance of innovation and design in facility planning, equipment and operations.

The Workshop, titled Vivariums Designed to Add Value and Cut Costs, underlined how the primary objectives of contemporary vivarium laboratory design and operations are to provide dynamic vivarium space that supports effectiveness, efficiency and economy and how decisions on facilities, equipment and operations taken at the design stage can positively influence outcomes, and at a lesser cost.

The workshop has been approved for 1 credit hour by the U.S. Green Building Council and 1 Learning Unit by the U.S. Green Building Council.
Lloyd E.L. Fisk (AIA LEED AP, Laboratory Consultant, Research Facilities Design) showed how the use of animal models continues to play an essential role within basic research and within preclinical testing. He indicated how there are several trends which can be seen as common themes affecting the design of the latest animal research facilities and how these trends revolve around advances in the technology of animal models, research methodologies, and husbandry techniques.

Chris Cosgrove (Director of Planning, The ElmCos Group Ltd) presentation, demonstrated how animal facilities are primarily process facilities and how analyzing these processes can improve the design and operation of the facility. Cage wash and holding room design and operations, staging and storage, labour and cost accounting can all be simulated using tools as simple as spreadsheets through to animated simulations. Participants learnt how these processes can be applied to early programming and design of new facilities and to the optimization of existing facilities.

Jim Wallace (CEO Science Associates, Eastbourne , UK), showed opportunities provided by technology to meet the needs of critical animal care and human health and safety in vivariums. Animal Cage Change Stations use Vertical Laminar Air Flow (LAF) to protect both animals and research agents from cross-contamination and the environment and operators from exposure to animal allergens or microorganisms. CFD modelling allows the potential in-use performance characteristics of the LAF hoods to be evaluated early in the production cycle and the potential impact of any modifications on design, energy use or aerodynamic parameters on safety and performance. Second, Automatic Watering for rodents provides a continuous supply of fresh water using minimum labor. However, there is a low, but ever-present, risk of a cage flooding, with the subsequent loss of valuable research animals. An innovative, external Leak Detection System (LDS) provides continuous, flood monitoring for each cage. The LDS system reduces the risk of animal loss and the requirement to manually check potentially thousands of watering valves daily.

Dr Aaron Olsen (Director of the Laboratory Animal Research Center at Utah State University), demonstrated that modern laboratory animal facilities are highly complex units intended to serve diverse and ever changing needs. Careful planning and integration of facility design and equipment can greatly assist running an efficient animal care operation. The 650 Bioinnovation buildings at the Utah State University Innovation Campus includes facilities for housing biosafety level (BSL) 3 animal studies while simultaneously boasting capabilities for conducting small rodent physiological or behavioral research as well as large animal studies. A key component to the successful design, construction, and operation of the facility has been the selection and implementation of key equipment components. The selection of wash equipment has provided energy efficient and cost effective wash solutions. Ventilated rodent caging with its plug-and-play design provides excellent flexibility in the face of shifting facility needs, while specialized biocontainment caging improves worker safety in an hazardous environment.