News
ISOcage Positive is a real isolator at cage level, specifically designed for the protection and welfare of gnotobiotics, germ-free and immunocompromised animals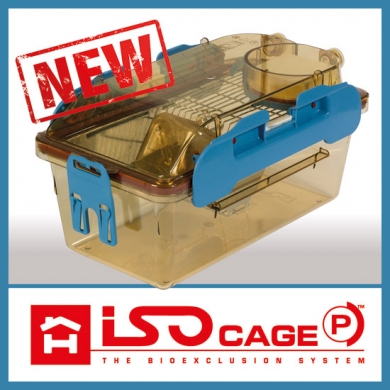 November, 2015

Since the first scientific symposium on germ-free life in the 1940s, the use of germ-free or axenic and gnotobiotic animals has been surprisingly increasing.
So far germ free animals have been bred and maintained in flexible film isolators. IVCs are instead widely used for conventional as well as SPF animals thanks to the great advantages they have brought in terms of density, running costs saving, flexibility. So far they haven't been used for germ free because they had certain limitations such as the impossibility of maintaining a strong intra-cage positive pressure.
ISOcage Positive is a real isolator at cage level.
Iso Cago Positive allows to carry out of different studies on the same rack, achieving an IVC-like density. It features twin clamps and double gasket self-closing nozzles: ISOcage P is a real airtight, hermetic cage.
HEPA filter is installed inside each ISO cage.
The Air Handling Unit has a Pressure driven microprocessor based ventilation control that guarantees constant high positive pressure to provide a safe intra-cage environment.
Two blowers working simultaneously make for redundancy in the unfortunate case of a blower failure.
Battery back-up system can provide adequate ventilation for more than 24 hours in case of power failure.
The air valves are placed on the top: no air drafts minimizes anxiety- and stress-induced behaviour.
This is particularly important for the protection and welfare of gnotobiotics, germ-free or immunocompromised animals.
Furthermore, the air handling unit provides ventilation without transmitting vibrations to the rack, ensuring standardization of the experiment.
Last but not least the use of ISO P is meant to dramatically reduce running costs.
Many research groups have started using ISO Cage Positive worldwide since its official launch a couple of years ago and some very interesting articles on a new, faster and easier way of maintaining germ free have been published as a consequence:
A simple cage-autonomous method for the maintenance of the barrier status of germ-free mice during experimentation
G. Hecht, C. Bar-Nathan, G. Milite, I. Alon, Y Moshe, L. Greenfeld, N. Dotsenko, J. Suez, M. Levy, C. A. Thaiss, H. Dafni, E. Elinav and A. Harmelin.
Laboratory Animals 2014 Oct;48(4):292-7.

Potential for using a hermetically-sealed, positive pressured isocage system for studies involving germfree mice outside a flexible-film isolator
Jisun Paika, Olesya Pershutkinaa, Stacey Meekera, Jaehun J. Yia, Susan Dowlinga, Charlie Hsua, Adeline M Hajjara,Lillian Maggio-Pricea & David A. C. Beckbc.
Gut Microbes 2015 Jul 4;6(4):255-65
​Click here to discover product details