Disposable plastic Caging System: How a wrong decision can be an Eco Disaster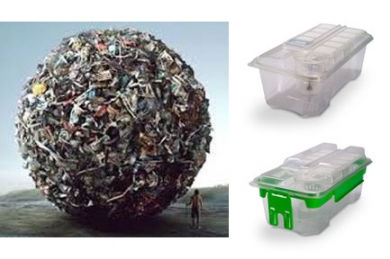 June 2014

A very interesting and complete case study has been presented recently on decisions on Durable or Disposable Plastic Caging System with a complete, objective analysis in terms of costs and environmental impact.
It describe, as never done before, a complete analysis of a decision making process to evaluate the impact of utilizing either a reusable (Durable) or single use (Disposable) ventilated caging system in a new multi-species facility being constructed for a very important Research Center, located in Bergamo, Italy. The basis of the decision making process was the development and comparison of the following key performance indicators:
Economic sustainability
Operational functionality and efficiency
Environmental impact
It was assumed there was no obvious difference in animal welfare between the two systems and so this was not considered in the evaluation. The facility has a capacity of 2000 mouse cages, which were the focus of the study. Facility operating protocols dictated the need for changing the complete cage with each cage change, the use of water bottles, and that bedding is added to cages onsite. It was determined a minimum amount of cage processing would be required to support other species and that all materials entering the facility would require chemical decontamination.
The location of the facility limited the availability of options for recycling Disposable caging and local regulations requires the handling of caging as hazardous waste. Equipment, space, and operating costs for each system were developed into cash flow statements and an incremental cash flow comparison developed. A review of the operational impacts related to material handling flows, cage change operations, and biosecurity were conducted. An environmental assessment of each scenario was conducted using a Life Cycle Assessment (LCA) process conforming to ISO14040 and ISO14044.
Economic indicators demonstrated short-term gains with the use of Disposable caging due to reductions in initial capital costs. Higher long-term operational costs associated with Disposable caging reduced initial capital savings and in Year 4, the two systems were at a breakeven point with further cumulative losses in subsequent years. Operational impact analysis demonstrated no significant space savings or labor savings and additional operational complexities were associated with the frequent delivery and entry of materials to the facility.
Results of the environmental impact analysis demonstrated Durable cages produced 50% of the carbon footprint over its entire useful life when compared with Disposable caging. With Durable caging scoring higher on all three key performance indicators it was concluded that Durable caging provided the best solution to the specific functional and operational characteristics of the new facility.
Some numbers:
DURABLE VS DISPOSABLE 6 YEAR INCREMENTAL CASH FLOW COMPARISON IN EURO
| | | | | | | |
| --- | --- | --- | --- | --- | --- | --- |
| | YEAR 1 | YEAR 2 | YEAR 3 | YEAR 4 | YEAER 5 | YEAR 6 |
| Annual Disposable Saving/loss | 651.040 | - 259.228 | - 315.900 | - 182.500 | -182.500 | -182.5000 |
| Cumulative Disposable savings/loss | 651.040 | 391.812 | 75.912 | - 106.588 | - 289.088 | - 471.588 |
COMPARATIVE CO2 FOOTPRINT FOR DURABLE & DISPOSABLE CAGES OVER A 6 YEAR
| | | | |
| --- | --- | --- | --- |
| | Total Number of cages used | Total Amount of waste | Total C02 Footprint |
| Single Use System | 396.000 | 145 tons | 53064 Tons |
| Durable System | 2.200 | 2.5 Tons | 755 Tons |
ASK YOUR TP REPRESENTATIVE ABOUT A COPY OF THE STUDY with all the data or read ALNW (Animal Lab News magazine world) article published in October 2012 (Volume 5, Number 5, from page 12 to page 14).