News
A sustainable Lab animal Facility for Sustainable research: how to select a green and sustainable supplier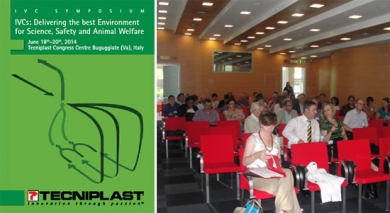 June 2014

A very interesting and complete case study has been presented by one of the most important Architects in the Lab Animal Industry, Jeffrey Zynda from Payette, a leading architectural design firm in Boston, MA specialized in technologically and programmatically complex building types for science, last week during the WW IVC Symposium titled "IVCs: Delivering the bet Environment for Science, Safety and Animal Welfare".
Sustainability in the context of laboratory animal research facilities is often misunderstood and frequently misleading. Differences in manufacturing processes, equipment performance and material sourcing make the "same" lab-animal research equipment incredibly different in terms of energy consumption and carbon footprint. How does one make good decisions in selecting equipment? Jeffrey Zynda outlined the key-decision drivers in the process, the three-C's: Consumption, Carbon and (Operating) Cost as well as illustrated bias-free toolsets that assist in decision making on critical equipment.
This session looked at comparative methods for evaluating caging systems (Static vs. IVC and Durable vs. Disposable), cage and rack wash technology, autoclaves and biological safety cabinets in order to reduce lab animal facilities carbon footprint. Tools such as ISO 14040 and ISO 14044:2006 as well as practically applicable consumption comparison methodology has been introduced showing how early equipment decisions on first-cost basis can prove to be shortsighted over the lifespan of a lab animal facility, and can have potentially disastrous environmental and research impacts if not properly considered.